Kompany: "Everybody is happy for Bakkali"
MONDAY, 14 SEPTEMBER 2020, 14:27 - lajoya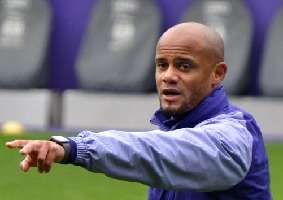 INTERVIEWS Many people were surprised to see Zakaria Bakkali's name in the starting eleven, but coach Vincent Kompany said it was a natural choice. "I didn't give him that place, he grabbed it himself", said Kompany, who also sees Yari Verschaeren getting better and better.


"Bakkali has changed phenomenally compared to last season", Kompany's first question at the press conference was about Bakkali's starting place. "His case is a good story to the team. When a player clearly does his best and makes a difference in training. If he does everything he can to do his job for the team even in difficult circumstances in a friendly game at Leverkusen. Then that must be rewarded."

"This is an example that we can get a lot of strength from as a team. I did not give 'Zico' that place, he took it himself. It was clear to everyone in the team. I think everyone was happy with his return to the team. . "

"Yari will improve through competition"

Yari Verschaeren played as a substitute for fifteen minutes. In the four previous matches he collected only ten playing minutes. "Today it was easy for me to give Yari those playing minutes because he was top during the week," said Kompany. "He trained well. The weeks before the international break he also trained well. The same goes for Sambi Lokonga. I am happy with Yari's performance as a substitute. Also because I know that competition makes us better. A Verschaeren with competition will be better. Same counts for other players. "

"Colassin will still get his chances"

Peter Zulj and Antoine Colassin did not make it to the match sheet. When asked about this, Kompany avoided Zulj, but did tell something about Colassin. "We have 31 players in the first team and I make my decisions based on what I want to show as a club and as a coach and on how I want to tackle the game. I had a conversation with Colassin. He is an Anderlecht talent who will get his chances. He will certainly be an important player for us for the future. "


Source: © Internal source
anderlecht-online forum