Good hope for 5,000 fans against Cercle
TUESDAY, 1 SEPTEMBER 2020, 17:20 - Macuz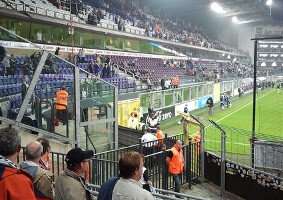 GAMES Anderlecht sat together with the city council last Thursday to discuss the admission of supporters in the Lotto Park. The club has a plan to host 5,000 fans from September 13. "Inj principle there is no problem," said Mayor Fabrice Cumps.

"The meeting on Thursday was very constructive," Mayor Cumps tells Sudpresse. "We have asked for a few more adjustments, but in principle there is no problem. We are now looking at how everything will work in practice."

Anderlecht will play its next home game on September 13. Cercle Brugge is then the opponent.
Source: Sudpresse

anderlecht-online forum