Vercauteren: "Ask myself whether some players have given everything"
MONDAY, 17 FEBRUARY 2020, 10:20 - lajoya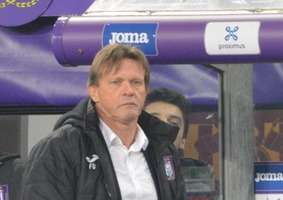 INTERVIEWS Frank Vercauteren could still be positive about the first half, after that it was less. The players also received a swipe from the coach of their coach who doubted strongly whether everyone was motivated to win this match. "We have to stand in front of the mirror."


The coach could still live with the match start of his team. "We started the game well: a lot of control, we found the free man and ... we forgot to finish our chances. Joveljic scored every ball on training, and now he misses, that's annoying to look at. After the red card it was all over and we just had to undergo the game. "

"We must ask ourselves whether everyone has done everything to be present in that match. We should not look at others, but stand in front of the mirror," the coach continues, "I'm not thinking about play-off 1 either. We have to tackle every game again to win and that didn't happen today. Whether we deserve play-off 1? The first six at the end of the regular season will deserve that. The rest don't. "


Source: © Internal source
anderlecht-online forum