Colassin: "Happy, but frustrated"
TUESDAY, 21 JANUARY 2020, 21:26 - lajoya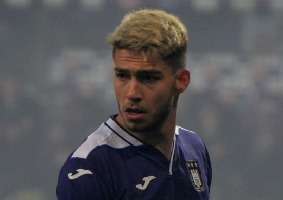 INTERVIEWS Antoine Colassin did not speak to the press after his debut, but the young striker was allowed to say a word on rsca.be. "I'm happy about my own game, but also frustrated. We really deserved better. This is a bitter defeat."


Colassin made a dream debut with a goal. The action of the goal started with the 18-year-old himself. "I see Alexis (Saelemaekers ed.) Advancing and we understand each other well. I know how he is going to run and will play. I immediately play back and go deep. I see some space between the defender and Mignolet, after which I put the ball in the net ", says Colassin.

"We were immediately in the game very well and played a strong first half. Too bad that goal just before half-time came a bit out of the blue. We had the game under control. Especially before half-time, we created a lot of opportunities for more. But then we had to score once. It was a shame about the second goal after the break, because we played a strong game. We didn't deserve to be left empty-handed."


Source: © Internal source
anderlecht-online forum