Kompany: "You never learn as much as when you get slapped"
SUNDAY, 17 NOVEMBER 2019, 00:00 - SJonas35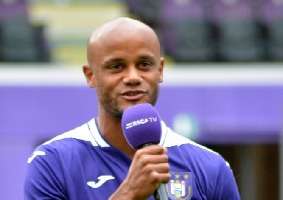 INTERVIEWS - INTERVIEWS Interviews with Belgian media are rare, but in an interview with the English daily newspaper 'The Guardian' Vincent Kompany looks bach on the first months at RSC Anderlecht. He looks also forward and preaches peace. Below a short recap of the exclusive interview.

Ajax as benchmark

After a bad competition start, the train slowly starts to get on track. After a series of seven unbeaten games, Anderlecht is now in tenth place. Still far below the position that a club like Anderlecht should hold, but Play-Off 1 is in sight.

"To make it easier for people to understand, it is best to compare us to other clubs that are currently undergoing a transition," Kompany begins. "Unfortunately, Manchester United is a good example of this. Or Glasgow Rangers, before the arrival of Steven Gerrard. Or AC Milan, even a club of such status, should pay attention that it does not go over when there is no vision or plan. At Anderlecht we have invested a lot of time to adjust the parameters of this vision correctly. Now we just have to stay calm and go through the process"; Kompany continues.
"In Belgium, there has been a lot controversy about how to fulfill my role as a player-manager. The classical role of the manager, and the short-term aspect of it, is not what I do. I am also still a player. But we have outlined a vision and a plan for how the club can restore its identity and be closer to the fans, while at the same time we want to try to compete with the big teams around us, such as Ajax and Bruges. "


Identity and diversity

Kompany says he feels 100% Congolese and 100% Belgian. "I am not struggling with permanent setbacks," he continues. "I embrace it. The great side of setback is that you can never learn as much as when you get a kick in the ass. Father and mother taught me that attitude. My mother was a (white Belgian) trade union leader who has always fought for the rights of those in need. Justice was crucial to her. And when we talk about justice, we must not forget that my father fought against the Mobutu regime. My father protested in the streets of Kinshasa, causing him to lose many of his fellow students. He had to go to a labor camp to fight for what he believed in. "

"My world is easy compared to my father's. I am just trying to do the right thing. If you make a comparison with the project at Anderlecht, I think this is the right way to follow. I have analyzed and checked it and made sure that the plan is fully feasible. From that moment on, nothing will change my mind. I will not compromise. "


Patience

When the club is in the hands of a billionaire there is a danger that patience will sooner or later end up. "Everyone needs to understand that success cannot be bought in the short term. Patience is not a virtue in football, I realize that all too well. But in reality it is necessary."

The arrival of Frank Vercauteren at the beginning of October marked a turning point for Anderlecht. Was this Kompany's decision or not? "That is a difficult question to answer. Everything happened in mutual consultation. Frank has a wealth of experience at international and national level. He is a legend of the club and he won European titles as a player. He played a semi-final of the World Cup with the great Belgian generation of Mexico 1986. So bringing back a person with such authority was really important for the protection of our long-term approach. "

There was some controversy in Belgium when Kompany was announced as Anderlecht's head coach. "First of all I have to finalize my diploma. Secondly, my role is somewhat different than how people make it appear. I'm still a player, the captain of the team, who played in the biggest competition in the world. In that period I also obtained a Masters in Economics at the University of Manchester. It would be criminal if I did not share that knowledge in the Belgian competition. The long-term future of Anderlecht will be protected by me at all times. At the moment I am still playing and there is no better place to be than on the football field. But I am concentrating on helping the club understand how they can realize their full potential, "concludes Kompany.


Source: The Guardian

anderlecht-online forum