"Anderlecht must offer a contract that reflects my value"
FRIDAY, 15 NOVEMBER 2019, 13:08 - lajoya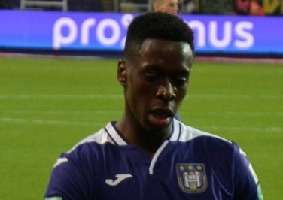 INTERVIEWS In an interview with Het Nieuwsblad, Albert Sambi Lokonga once again stated that he would like to play for Anderlecht for another two years. In the meantime, negotiations on a new contract are continuing.


"I want to stay at Anderlecht for another two years, but then the club must offer me a contract that correctly reflects my value," says Sambi Lokonga. Anderlecht unilaterally raised the option in Sambi Lokonga's contract last week, which means that he is now fixed until mid-2021. "A good choice", the midfielder calls that action. "We will look at how we can possibly continue the negotiations. Nobody should be worried."

But is that really so? Note the word 'possibly' in the penultimate sentence. The lawyers of Sambi Lokonga contest that unilateral contract extension. They believe they have arguments that it is not valid. According to the Nieuwsblad, there is a realistic chance that Sambi Lokonga will become a free player after this season.

"Thanks to Kayembe I can play football from a seat"

After Frank Vercauteren's arrival, Sambi Lokonga got with Edo Kayembe a breaker in midfield next to him. The youngster feels good next to Kayembe. "With Edo, I can play from a seat. He has a lot of duel power, so I can play football, out of the duel. I can also turn up more in the opponent's penalty area. That suits me."

The next step in the development of Sambi Lokonga is to become more of a leader. The coaches encourage him in this. "I don't have the character to shout in the dressing room. My brother Paul-José Mpoku is more of a talker. I realize that I still have to take steps in this."


Source: © Internal source
anderlecht-online forum