"Only want to lose from better teams, much better ones"
TUESDAY, 8 OCTOBER 2019, 20:47 - lajoya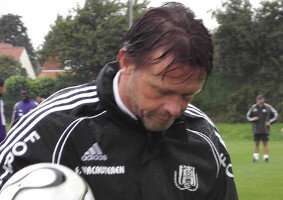 INTERVIEWS Frank Vercauteren immediately made one thing clear, he is the coach and takes the final decision. He has faith in the process and wants to go along with it, but he mainly wants to take points. If you have to do that with a little less beautiful football, then you should.


"Anderlecht is my club. The club asked me and everything had to go really fast", Vercauteren explains his transition.

Philosophy

Vercauteren has already had conversations with various people at the club, also with Kompany. "I know the philosophy and I am not going to change anything about it. Because of the international break I have a few days left to watch everything. But it is clear that things have to be more efficient. But there is one person who decides and that is the coach and that is me. That is now clear. "

Realistic football

"I also have the Anderlecht DNA in me. Every trainer wants to play well and win. But I only want to be beaten by better teams, much better. If we ever win with ugly football, then we should do that. If you have done everything not to lose, you cannot blame yourself. "

High but realistic goals

"I know where Anderlecht normally belong and what they should look at now. I have realistic but high goals. They are looking for teams to challenge Club Brugge, Antwerp, Standars and Genk. If we want to be that team then we know what to do "


Source: © Internal source
anderlecht-online forum