Chairman supporters club: "Let us wait until the end of September"
MONDAY, 19 AUGUST 2019, 19:38 - lajoya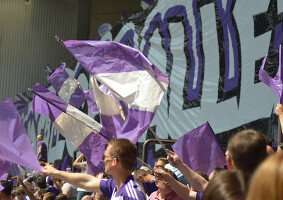 INTERVIEWS Anderlecht are only 13th after four match days and the press is eager to respond. On Radio 1, Frank Eeckhout, member of the Fanboard and chairman of a supporters club, was interviewed about the start of the competition.


Eeckhout started with a positive note and said that nobody expects everything to be ready immediately. "The football is much better than last season, only the results are disappointing," Eeckhout said. "We have had some dramatic years in terms of football, but that is already better". According to Eeckhout, a large number of the supporters are convinced that the results will follow.

"Kompany does not always have to take on everything. He can safely name things as they are. If someone has made a mistake, he can simply say that", says Eeckhout who further says that Kompany does not have to put himself above the rest. . "He is also a player, one of the eleven."

A confidence, finesse in the finishing and some luck are missing Purple & White at the moment according to Eeckhout. "We get a light penalty against on Saturday. That is a turning point and the heads went down. We have a young group that needs a boost from a victory."

Yet he also notes a downside. "We have bought a striker and he has not played yet," said Eeckhout, who further believes that this is a downside to not having a fit striker when the season starts. He wants to wait until the end of September, when everything is well integrated. He thinks that we can only draw the first conclusions.

He admits not to look at the other teams that play well and also do well in Europe (for the time being). "We are facing a very difficult four-part program, but we hope and believe in a good result on Friday in Genk. Once that victory has been achieved, we will be started", concludes Eeckhout.


Source: © Internal source
anderlecht-online forum