"Chipciu did excellent as a right-back"
TUESDAY, 16 JULY 2019, 19:54 - lajoya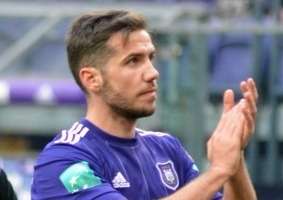 OTHER It is not yet clear who will start the season as right back. Enough candidates, but none stand out. Will Alexandru Chipciu, after a loan, be the lucky one? The Romanian national coach is convinced that Chipciu can handle this position.
 


Najar: injured: Saelemaekers: missed a large part of the preparation and is especially offensive strong. Sowah: been injured for almost two years. Lutonda: inexperienced and playing as left back at the U21 last season. And so, during the fan day, Michael Verschueren suggested that Chipciu might play as a right back.

In his first passage at Anderlecht, the Romanian played higher on the wing, but his national coach Cosmin Contro put him behind during the last two international matches. "He did very well," said Contra. "If you don't believe me, you should analyze those two games. Defensively, he did well and with his volume and running ability he can cover the entire wing. That's a huge asset in modern football."

However, the question is whether Chipciu wants to stay himself. He will not be an undisputed player of the starting eleven. Turkish clubs show interest and Anderlecht want to cooperate in a transfer. Purple and White do not immediately like a new loan. Partly because of its multiplicity, the Romanian is not on the list of players who must leave at all costs.


Source: Het Laatste Nieuws (PJC)

anderlecht-online forum