"Vanhaezebrouck found Mbokani a descending story"
SUNDAY, 17 FEBRUARY 2019, 11:33 - lajoya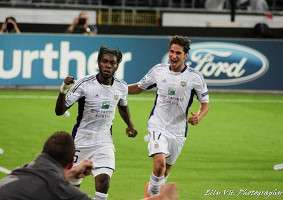 INTERVIEWS Dieumerci Mbokani will always have a link with RSC Anderlecht but is now playing for Antwerp. Even though Purple-White had the chance to get Dieu last summer, Anderlecht refused, says Fabio Baglio, Mbokani's agent.
 


Mbokani's contract ended last summer at Dynamo Kiev. Few clubs saw it as a way of bringing in the Congolese, outside Antwerp than. The player thanked the club with up to now, seven goals and four assists.

However Mbokani could just as well be dressed in a purple-white shirt today, but Hein Vanhaezebrouck decided otherwise. "I have offered Dieu at a lot of clubs, both abroad and here in Belgium", says Baglio, "So yes, also at Anderlecht, but Devroe said that Vanhaezebrouck found my player a descending story, which meant that Mbokani, according to Anderlecht, was over, but look now. "

"However, Dieu does not blame Anderlecht and he does not want to take revenge this weekend, he is not an ungrateful person, although he will be extra motivated, he is always opposed to his ex-clubs. If he will play for Anderlecht in the future? I doubt, especially in view of the current situation. A new project must be more interesting than the current one ", says Baglio.


Source: HNB (Jürgen Geril)

anderlecht-online forum