Standard supporters attack Anderlecht supporters and ambulance provide
MONDAY, 11 FEBRUARY 2019, 10:35 - lajoya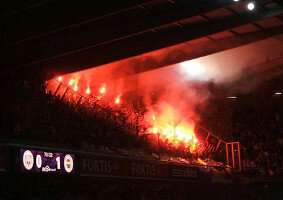 OTHER A RSC Anderlecht supporters club held its annual food festival in Halle on Saturday. But there they had unexpected visited. A 20 to 30 hooligans from Standard carried out a raid and even ambulance personnel had to pay it.


An ambulance that happened to pass by saw a victim of the brawl lying on the street and turned to offer help. But the Hooligans of Standard did not agree with that and attacked the ambulance. Fortunately, the ambulance officers were able to bring the victim to safety in time and close the door of the ambulance.

The fire brigade is not set up with the event and is considering further steps: " Strokes and injuries are already a crime, but against relief workers this is an aggravating circumstance."


Source: © Internal source
anderlecht-online forum