Coucke: "The financial opportunities are enormous here"
TUESDAY, 27 FEBRUARY 2018, 12:01 - lajoya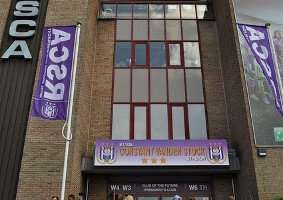 INTERVIEWS Sunday at 12.45 pm Marc Coucke arrived in Anderlecht. He immediately spoke to the press who was present. "I'm going to need a bit of time, of course, but financially there are enormous opportunities here."


"We had to start by changing the GPS. It feels weird, but this was my football weekend: one hundred becomes zero and zero becomes one hundred", he refers to the sale of Ostend and the purchase of Anderlecht. "I have to stay in the background for a few weeks, it was a nice evening at KV Oostende (KVO won 2-0 from STVV, ed.). And I hope it will be a good start here. I want to deal with things differently, I'm going to need a little bit of time, of course, "said the new chairman.

When he was informed of the difficult financial and sportive situation, he focused mainly on the second. "Of course, they did not win the last five games, we're going to try that you can not say that again in about three hours. And there are huge opportunities here. In the last few months there have been a few sub-optimal decisions taken, maybe that's why the club came up for sale and I could buy it. "


anderlecht-online forum