Anderlecht and Vanhaezebrouck refuse Chinese offer for Teodorczyk
TUESDAY, 20 FEBRUARY 2018, 14:17 - lajoya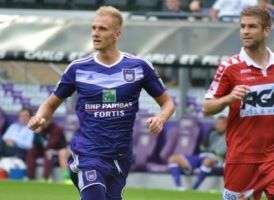 OTHER An unknown Chinese first division team has made an offer last week at Anderlecht for Lukasz Teodorczyk. It was a very nice amount and the Pool wanted to go into it, but Hein Vanhaezebrouck put his veto.


In China, the transfer market is still open and a Chinese club wanted to pay between five and ten million euros for Teodorczyk. A nice salary was waiting for the striker himself. Vanhaezebrouck, however, did not want to let him go. Anderlecht can no longer make transfers and finishing the season with Sylvère Ganvoula and the young Mohammed Dauda is not an option for him.

Teodorczyk reacted disillusioned and Vanhaezebrouck had a personal conversation with the Pool. The coach said that he still counts on Teodorczyk this season and that he can still teach Anderlecht a lot. Nevertheless, the intention remains to sell last season's top goal scorer. If this bid had arrived in January, Teodorczyk would no longer play at Anderlecht. RSCA hopes to be able to sell him in the summer now.


anderlecht-online forum