One point after spectacular match in Standard (3-3)
TUESDAY, 30 JANUARY 2018, 13:45 - D.A.B.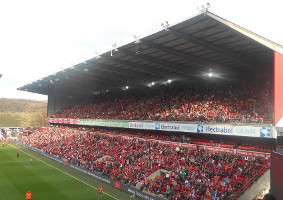 GAMES Anderlecht and Standard kept each other in balance with a 3-3 draw. The Belgian champions started without real strikers, but Sofiane Hanni became the man of the match with a hattrick. The Mauves remain third in the ranking.

The visitors took a bad start: after just six minutes Sa was left alone after a corner kick. The striker accepted the gift and scored: 1-0. Standard dominated, but Anderlecht reacted on the counter attack. Appiah brough the ball perfectly in front of the goal and Hanni pushed it against the net: 1-1. Standard didn't seem to be impressed and kept coming though. Sels saved an attempt of Emond, but a bit later Luyindama scored a fantastic goal: 2-1. Emond and Mpoku missed the chances on 3-1. The Mauves were more efficient though: Saief sent Hanni deep, who scored despite fierce defending: 2-2. That same Hanni even gave Anderlecht the lead. He intercepted a ball pass, stormed alone towards Ochoa and scored the 2-3.

The second half was a lot less spectacular. Both teams played at a lower pace, but Standard remained the most dangerous. After some pressure, the home team scored but the linesman had flagged for offside. The equaliser eventually fell anyway and again after bad defending on a corner kick (Luyindama, 3-3). Cop and Emond could have given Standard the victory, but Sels played well, on one occasion with assistance of Dendoncker who clear a shot from the line. In the very last minute, Ganvoula should have scored the 3-4, but his header wasn't strong enough to beat Ochoa a fourth time.


anderlecht-online forum