Van Holsbeeck: "All agreements have been respected"
FRIDAY, 2 FEBRUARY 2018, 14:46 - lajoya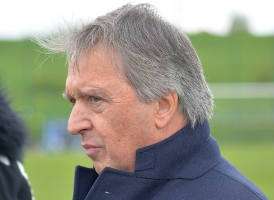 INTERVIEWS There was a moment that RSC Anderlecht showed interest in Milic from KV Oostende, but that did not come. "I called Devroe for that, but that's all," says Herman Van Holsbeeck, "It was already a difficult transfer period, but all agreements were respected."


From 1 March Marc Coucke will be the boss of RSC Anderlecht, but the acquisition has already been announced before the transfer period. As a result, some agreements now had to be respected: "I had a budget and I was not allowed to go over it." It was not easy, but I kept myself to all agreements and instructions as good as possible: selling first and then look further. The financial balance is in any case respected ", says Van Holsbeeck.

"I now especially hope that there will be clarity from 1 March to everyone, and yes, also to myself, I am waiting for my conversation with Coucke and we will see", the general manager concludes.


anderlecht-online forum