Does Gerkens still have a future at Anderlecht?
SATURDAY, 11 JULY 2020, 16:44 - Macuz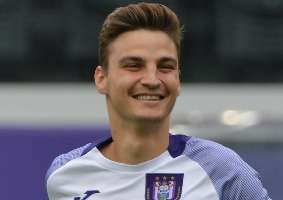 TRANSFERS Pieter Gerkens was not in the exhibition games against Charleroi the last Saturday. However, he was fit for competition. Limburger may be concerned about his future. Vincent Kompany and Frank Vercauteren want to keep with him, he wants to play more. But is that possible at Anderlecht?

"The coach choice", La Dernière Heure heard in the club hallwasy when asked why Gerkens did not play last Saturday. The day after the fiendly match against Charleroi, Kompany and Vercauteren had a conversation with the attacking midfielder. They told him the like to keep him on the team.

But Gerkens wants play more. The las season his counter was stranded, also due to injuries, in 364 minutes. In the typing team of the new Anderlecht there doesn't seem to be a place for him immediately. If there are no more opportunities to play, Gerkens will instruct his manager to find another club, according to Dernière Heure.

The last season, Standard, STVV and Zulte Waregem reported, but Gerkens sent them for a ride. When Gerkens leaves, it's for the foreing. In Belgium you don't see yourself playing for any club other than Anderlecht.

Gerkens still has an one-year contract with Anderlecht. The club may highlight an option that will add another year. Anderlecht let Gerkens understand that it is not difficult to make a good offer, but can also leave for the right price.

The second exhibition match will follow today. Gerkens' ex-club STVV is the opponent. Wondering if the midfielder will get into action.


Source: © Internal source
anderlecht-online forum