De Medina, product of Anderlecht to Bundesliga
SATURDAY, 11 JULY 2020, 16:19 - Macuz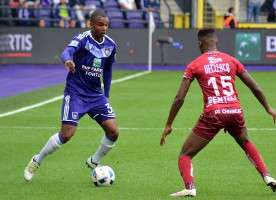 YOUTH Nathan De Medina makes a nice and remarkable transfer. The 22 years old defender from Anderlecht training moves after three years with Mouscron to Bundesliga. A contract with Arminia Bielefeld.

In the summer of 2015, De Medina changed core A in Anderlecht. During the last two games of that season, coach Besnik Hasi gave him his chance due to injury to the others defenders. After Hasi's departure, De Medina disappeard under Rene Weiler to core C. A loan to OHL followed and the transfer to Mouscron.

He made a great impression on Les Hurlus the las season, which now results in a good transfer. "Nathan has had a very good education in Anderlecht", writes Arminia Bielefeld on its website. "He made an impression on the youth league and Belgian league." Medina signs a three year contract with Bielefeld.

Bourard to Eredivisie

Earlier this summer, another Anderlecht product took a good step with Sami Bourard. Samy Bourard leaves FC Eindhoven in the Dutch second division for ADO Den Haag in the Eredivisie. Bourard was brought to A core in 2013 by John Van den Brom along with, among others, Youri Tielemans and Leander Dendoncker.

At Anderlecht and later STVV, the offensive midfielder was unable to continue, but the last season he stregthened at FC Eindhoven. Bourar, 24, score nine times.
 


Source: © Internal source
anderlecht-online forum