STVV has put a solid price tag on Boli
WEDNESDAY, 11 DECEMBER 2019, 18:03 - lajoya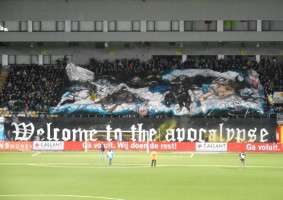 TRANSFERS RSC Anderlecht are showing big interest in Yohan Boli, the first talks are already over. The Ivorian striker is still under contract with STVV for six months, despite the still short contract period there is a price tag of 2.5 million euros at Boli.


But not only Anderlecht shows interest: "The entire Belgian top is interested," says father Roger Boli, "Two million is cheap, in other circumstances my son would be worth six million."

Not everyone is convinced about the qualities of Yohan Boli, former coach Marc Brys is a believer in the potential of the striker: "Yohan is a modern striker, he moves a lot, works hard and puts the collective in the first place. Moreover, he knows his way to the goal. He has everything to succeed at Anderlecht and may aim even higher. He must get confidence and feel appreciation. Then he will give his club a lot in return. "


Source: HLN (PJC/MJR/KDZ/RN/TTV)

anderlecht-online forum