Doku: "I was growing in the game"
THURSDAY, 10 SEPTEMBER 2020, 13:17 - lajoya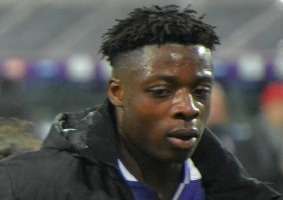 INTERVIEWS Jérémy Doku had a difficult time with the Red Devils in the first half. Roberto Martinez kept the confidence and Doku thanked him with a goal. A nice entry for his first selection, although it is now especially important that he keeps both feet on the ground.


In any case, Doku himself did not expect that he would be in the starting eleven against Iceland: "I suddenly saw my name on the board, that made me emotional."

Were it the emotions or the stress, the fact is that Doku just didn't do well that first half: "I was searching in the beginning. I missed even the most simple controls and didn't know where to run. I was a bit disappointed of it. But I grew in the match and that resulted in a goal. I have already seen the images and will watch them often. Even though everything would have been even better with a crowd".

Feet on the ground

A dream debut for Doku, although it is now especially important that he stays with his feet on the ground: "There were those who said that I was too young and did not deserve this selection, but I answered them with my feet. I know how. I have to use my speed, although I am not quite aware of what is happening to me now. "

The transfer market recently reopened for several weeks. After the match, Doku was also asked whether he would continue to play for RSC Anderlecht this season. "At the moment I am a player of RSC Anderlecht. Trying to play every match is as good as possible. We'll see where that takes us."


Source: © Internal source
anderlecht-online forum