Anderlecht still has to pay 425,000 euros for Acheampong
TUESDAY, 8 SEPTEMBER 2020, 14:36 - Macuz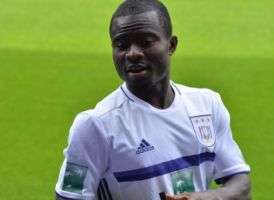 TRANSFERS - OTHER FIFA has decided that Anderlecht has to pay €425,000 to Buriram United. The Thai club claimed money from Anderlecht for the sale of Frank Acheampong to Tianjin Teda. FIFA agreed with them.

When Acheampong moved from Briram United to Anderlecht, the two clubs agreed on a resale percentage of 15%. In 2017 Acheampong moved from Anderlecht to Tianjin Teda. The Chinese club paid two million euros to rent Acheampong for six months and then 3.5 million euros to take him ofer for good.

Anderlecht paid Buriram a doover sale percentage on the 3.5 million euros (525,000 euros), but the Thai club believed that the rental deal lowered the transfer fee and filed a complaint with FIFA.

Until now, Anderlecht paid only 449,500 euros to Buriram. So it still needs 375,500 euros to the Thai club, plus 49,500 euros in interest. Together that makes €425,000. If Anderlecht does not pay, it risks a transfer ban for three transfer periods.

Anderlecht do not want to react. Herman Van Holsbeeck, who left the club a few months before the complaint, says that "the case does not ring a bell" and that he "has always tried to win the maximun for the club".
 


Source: Sport / Footmagazine

anderlecht-online forum