"Stroeykens, Debast and Duranville are even better"
SATURDAY, 8 AUGUST 2020, 12:59 - lajoya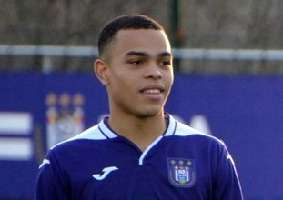 YOUTH The youth is and remains the showpiece of the new Anderlecht. Many youngsters are already part of the A-squad and the next generation is being prepared. Sports manager Peter Verbeke expects a lot from it.


Anderlecht saw top talent Romeo Lavia leave to Manchester City this summer, but the gold mine is not exhausted. "We already have a plan for youngsters like Stroeykens, Debast and Duranville, who will be even better than the current generation," Verbeke tells Het Nieuwsblad.

Mario Stroeykens (photo) is a big and strong striker / attacking midfielder who will turn 16 in September. He will play with the U21 this season. In September last year, on his 15th birthday, he signed his first professional contract with Anderlecht.

Zeno Debast is turning 17 in October and he has already signed a professional contract. Debast is a central defender who has already had a taste of training with the first team. Reports appeared in April about interest from Inter Milan.

Julien Duranville is the youngest of the three. He is one of the biggest talents of the 2006 class. Last season, the winger was named best player at the prestigious U13 Cup of Bassevelde.

A youth player who Verbeke does not mention, but from who Anderlecht also expects a lot is Rayane Bounida. The 14-year-old is considered one of the greatest talents ever in the Purple & White. Keeping him will be the challenge for the years to come.

Central defender Ethan Butera is also considered a great talent. Last season he played several times with the U16 as a 13-year-old and he did an excellent job. Ethan is the son of Jonathan Butera, a first-division professional at RWDM around the turn of the century.
 


Source: © Internal source
anderlecht-online forum