Negative virologist about football in Antwerp
TUESDAY, 4 AUGUST 2020, 20:28 - Macuz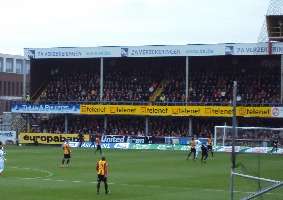 GAMES It remains to be seen whether the match between KV Mechelen and Anderlecht can continue on Sunday. Tomorrow at noon, Provincial Governor, Kathy Berx will give a press conference. Then she can announce if it can play football. Virologists don't like it, says Steven Van Gucht.

In the province of Antwerp, all contact sports, both training as competition, are prohibited above the age of 12 years. The Pro League expected an exception for professional football, but that decision has yet not be made.

"The exeption is a political decision"

Today, the Celeval group experts met on the subject. "Contact sports carry a higher risk of transmission of the virus. That is why contact sports are banned in Atwerp and it was a wise decision. We consider football to be a contact sport," says virologist Van Gucht from VTM.

"It is not up to Celeval to create an exception for football. It has to be a political decision, so we cannot comment on that. If you want to make an exeption you must first decide politically. Then you must see under what conditions it is possible. If I fear criticism if an exception is made for football, yes, there are also other contacts sports that cannot continue.

White somke tomorrow?

Celeval will now formulate an opinion on football and send it to Provincial Governor, Berx. She will give a press conference tomorrow at noon and announce chances to the measures in the province of Antwerp. We can finally find out if football can be played next weekend between Anderlecht and KV Mechelen.


Source: © Internal source
anderlecht-online forum