Small contract for Vanden Borre
WEDNESDAY, 15 JULY 2020, 15:03 - Macuz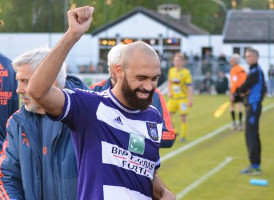 OTHER Anthony Vanden Borre is still training with RSC Anderlecht. Meanwhile, he also get a new small contract. Especially to be in order with the administrative part, like insurance. According to experts, the 'Ket' continues to train hard in the meantime.

Are you still playing football or no longer playing football, can anyone give an exact aswer to that? The fact is, hasn't played a game since 2017 and that can be problematic. However, Anderlecht does not want to give him up entirely and therefore will keep him on board.
"Look, you never know with Anthony", experts says, "but we have to be realistic. A return would be miraculous".

"Anthony is a boy of the house. It can certainly be of use to us. If he is not inside, then nex to the field", said Karel Van Eetvelt a few weeks ago. Vanden Borre has a favorable influence on young people, he has experience mainly in how not to and he can convey that good advice and he does it, plus there is no possibility that the 'Ket' still has a future in Neerpede, but not as player but as a youth coach.


Source: HLN (Pieter-Jan Calcoen)

anderlecht-online forum