Video: Malmö to the cup final despite the Thelin's penalty missed
FRIDAY, 10 JULY 2020, 13:58 - Macuz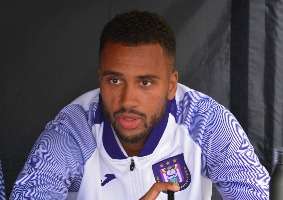 GAMES - OTHER Isaac Kiese-Thelin can breathe easier. In compensation time for the Swedish Cup semi-final extensions, he missed the opportunity to shoot from a distance of 11 meters. Fortunately, his teammates did the job on the next penalty kick.

After 120 minutes, it was still 0-0 in the semifinal between Mjällby and Malmö. The ball then hit the post after a hand on the ball. Thelin was placed behind the ball, but through the Mjällby goalkeepr, the ball was deflected. Therefore, a penalty had to decide who goes to the final. Thelin no longer kicked, but his friends put it 4-2. Former Anderlecht player, Guillermo Molins scored with eleven meters.

See the match report with the relevant phase at minute 2:45 here.

In the final, Malmö plays against Gotemburg. That match will be played on July 30.


Source: © Internal source
anderlecht-online forum