Vercauteren: "I congratulate players for commitment, attitude and qual
MONDAY, 20 JANUARY 2020, 21:31 - lajoya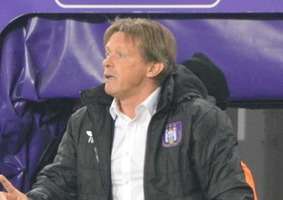 OTHER At the press conference after Anderlecht - Club Brugge, Frank Vercauteren makes the same analysis as his Bruges college Philippe Clement. The Anderlecht coach mainly saw a strong first half of his team. "We may be happy with our performance and the manner, but that is not enough against this Club."


"I can't give remarks on the team's performance", Vercauteren started. "There was a clear difference between the first and second half. Club had adjusted during the break. They also had the qualities for that. The result could be different. They had opportunities, but so did we. I can only congratulate the team for their commitment, attitude and quality, but that is still not enough to achieve a result against Club Brugge, but overall we can be happy with our performance and the way we do, but we have to convert it into results. "

Vercauteren does not yet know why things went less well after the break. "In the first half we made a lot of efforts, but I have not yet been able to view the physical parameters. At first glance we did not seem strong physically, but I am not going to make any statements about that until I see the statistics."

"Performance Colassin does not change the need for extra striker"

The most notable player at Anderlecht was without a doubt Antoine Colassin. The 18-year-old striker debuted with a goal. "We discussed with some players what they saw as the best option to replace Roofe. The decision was made on Saturday to let Colassin start. We told him Saturday afternoon. That way he could sleep peacefully and prepare the game optimally. well done, which is not obvious against Club Brugge. But let's keep our feet on the ground. It is just beginning for him, he still has a long way to go. "

Does Colassin's performance change the need for an extra striker? "I don't think so. Colassin is just an extra player for a position for which we don't have a lot. Recently we let two more go. Antoine's performance is nice, but I think we still have to look and see what is possible."

"Murillo good, but he needs to be even better"

The other debutant, Amir Murillo, did not do badly either. "He played well," said Vercauteren. "A few things can still be improved. Of course it was a big test for him on his debut. I think he has met expectations. He does indeed have some work and the bar may be higher. We will work on that. 


Source: © Internal source
anderlecht-online forum