Vercauteren: "Level must go up"
TUESDAY, 3 DECEMBER 2019, 09:53 - lajoya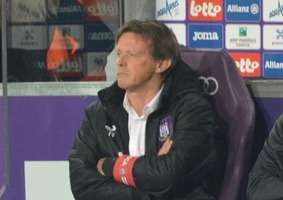 INTERVIEWS Frank Vercauteren suffered his first loss on Sunday since he was appointed as RSC Anderlecht's trainer. The level very low, certainly the first half, Vercauteren admits that. Furthermore, the T1 also wanted to apologize to the supporters.


Vincent Kompany was back on the pitch and his principles of football could also be found on the pitch. A process that Vercauteren also does not want to deviate from immediately, although according to him a little less risk must be taken: "It is no shame to kick the ball away."

"We have to apologize to the fans," Vercauteren continues, "especially for the first half. After the break it was a bit better but we miss that bit of luck again. But that didn't make up for our performance in the first half. just not good enough. The level has to be raised. "


Source: © Internal source
anderlecht-online forum