Lawrence takes the European Championship ticket, Musona with important
WEDNESDAY, 20 NOVEMBER 2019, 10:25 - lajoya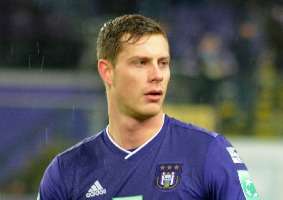 GAMES Several Anderlecht players had a great evening with their national team. James Lawrence qualified for the European Championship, Elias Cobbaut made his debut with the Red Devils and Knowledge Musona proved to be important with two assists.


Big party for James Lawrence and Wales. In a direct duel, they defeated Hungary and so the Welshmen qualified for the European Championship at the expense of Hungary. James Lawrence watched from the bench.

Elias Cobbaut and Yari Verschaeren also built a party. Debutant Cobbaut stood on the pitch throughout the entire game during the 6-1 gala display of the Red Devils against Cyprus. Verschaeren played the last half hour. Immediately afterwards Cobbaut told in front of the TV camera that it was "a great feeling to be allowed to debut in this generation".

Luka Adzic and the Serbian U21 lost in the early evening with 0-2 to Russia. Getting to the European Championship is now becoming difficult. Adzic played for 72 minutes.

Knowledge Musona booked a 1-2 victory with Zimbabwe against Zambia. Musona provided the assist for both goals: first a corner, then a good wide ball. Zimbabwe now has four out of six in the preliminary round of the Africa Cup.

Yesterday Bubacarr Sanneh and Gambia played a 2-2 draw against Congo in the context of the qualification for the Africa Cup.


Source: © Internal source
anderlecht-online forum