Cobbaut: "This feels like the first day of school"
FRIDAY, 15 NOVEMBER 2019, 12:23 - lajoya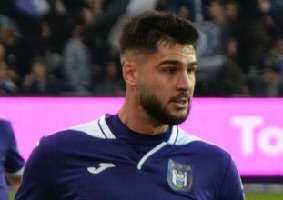 INTERVIEWS Elias Cobbaut experiences his first days with the 'big' Red Devils. During the European Championships for U21 he convinced Roberto Martinez and five months later the Spaniard brought him in. "I really didn't see this coming," says Cobbaut at Sporza. "I'm going to enjoy it, whether I'm playing or not."


"I don't fully realize it yet. The people around me realized it faster. I was shocked by my selection. I really didn't see it coming. I had planned a weekend in Amsterdam with my girlfriend, so we had to cancel that. I am very happy to have this opportunity. I'm going to do my best and see what's coming. "

In September Cobbaut played with Sergio Aguero and co in the gala match of Vincent Kompany. "But I find this more impressive. It is for my own country and I have worked for this. I am going to enjoy it. I am going to try to learn as much as possible for the future. I want to gain experience. To watch how these top players train and live. "

Last season Cobbaut was sidelined for a long time due to an injury. In August he watched from the stands. And now he is Red Devil. "You can safely say that it goes fast", he realizes. "The last few weeks I have been playing and suddenly I am a Red Devil. I now have to keep my feet on the ground and keep working."

Due to the absence of Jan Vertonghen and an injury of Thomas Vermaelen, it is not excluded that Cobbaut will get playing minutes. "That would be nice. Even if it is only thirty seconds. Whether I am nervous? This feels like a first day of school. Of course you are a little nervous because you are in a new environment. A football player must be able to control his nerves. I'm going to enjoy it, whether I play or not. "


Source: © Internal source
anderlecht-online forum