Sambi Lokonga: "Continue to work in peace"
WEDNESDAY, 13 NOVEMBER 2019, 20:57 - lajoya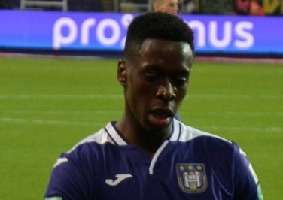 INTERVIEWS RSC Anderlecht have taken the option of one extra season in the contract of Sambi Albert Lokonga. Negotiations for a further extension are still ongoing. Sambi Lokonga indicates that he certainly wants to play two more seasons for the Purple & White, but under the right conditions.


There has also been a lot going on around the fact that Paul-José Mpoku, brother of Sambi Lokonga and player at Standard, is present at the negotiations. Sambi Lokonga, however, sees no point in it. "He is there as my brother and not as my agent. By the way, we had a good laugh at home with all the fuss. Well, I understand that for outsiders this can seem strange. But there is really no problem, we also have our principles. "

Despite the fact that there is no extension yet, Sambi Lonkonga is not looking to leave RSC Anderlecht: "I would like to stay another two years, on the right and correct conditions. Now that the option has been used, we also have more time and space to negotiate further."


Source: HLN (PJC)

anderlecht-online forum