Santini: "Anderlecht had to sell me, it needed money"
WEDNESDAY, 9 OCTOBER 2019, 19:06 - lajoya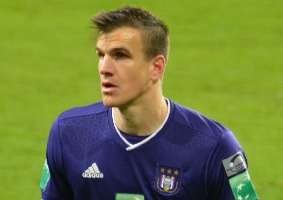 INTERVIEWS Ivan Santini went to Jiangsu Suning in China in the summer. He is still following RSC Anderlecht and also believes in Vincent Kompany's project: "I am not angry, they had to sell me because the club needed money." Although the club mainly needs stability according to the Croat.


"I can look here at the summaries of the matches of Anderlecht," Santini says, "Zulj is still playing at the club and is one of my best friends. We have daily contact and then I ask how things are going there. I am not angry Anderlecht needed money and had to sell me. "

"Whether or not I would have succeeded in scoring at Anderlecht, that is difficult to estimate. A team needs stability and there is no. There are other players on the pitch every season and that is bad to build a solid team. I hope they will get play-off 1 ", says Santini.


Source: HNB (Jürgen Geril)

anderlecht-online forum