"The way Club played, we can do that as well"
MONDAY, 23 SEPTEMBER 2019, 16:48 - lajoya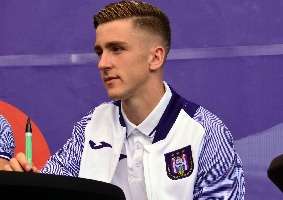 INTERVIEWS Barely 5 out of 24 points after eight matches and completely dominated by Club Brugge: Anderlecht don't seem to have lost confidence. "Of course we still believe in the title," Alexis Saelemaekers said after the game. "As Club Brugge played, we can do that too. Maybe even better."


Saelemaekers believes that the play-offs still offer every opportunity. "Then the points are divided in two anyway, so that's no problem. We've had the big teams in the last four matches. Now we have to grab points to get Play-Off 1. And the cup is important too."

"I understand that it doesn't make sense, but people don't see how the coach transfers the system to us every day and how well we work during the week. If we play our game, no one is better than us"

Then why did it not work in Bruges? "We were not aggressive enough and put too little pressure. If we did, we could put our foot next to Club."


Source: © Internal source
anderlecht-online forum