Anderlecht fined for supporters' chants
FRIDAY, 20 SEPTEMBER 2019, 11:14 - lajoya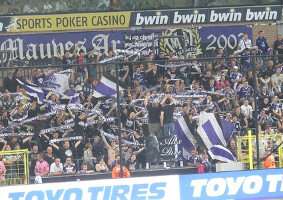 OTHER The Belgian Football Association dispute committee has imposed a fine of 1000 euros on the address of referee Bram Van Driessche for Anderlecht. The facts occurred on the opening match day of the competition in the home match against KV Oostende. Van Driessche also noted that a lighter was thrown at him.


34 minutes into the game, Jerémy Doku fell to the ground and the Anderlecht crowd shouted for a penalty, but referee Van Driessche decided not to whistle. Many supporters reacted furiously to the decision and sang "He is a whore of FCB".

Last season, Anderlecht was already blamed for similar incidents. Federal attorney Gilles Blondeau spoke about "a minimum of respect for the referee" and demanded a fine of 3000 euros instead of the usual 1000 euros.

The disciplinary body of the Dispute Committee ruled that this amount was excessive because Anderlecht had taken the necessary steps to prevent such incidents. "A sanction is urgent to send a clear signal. But it would not be appropriate to impose a higher sanction here, because Anderlecht are just more diligent in this case than in the past."


Source: © Internal source
anderlecht-online forum