Official: Vanden Borre trains with U21
TUESDAY, 17 SEPTEMBER 2019, 14:30 - lajoya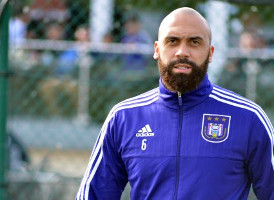 OTHER What already appeared in the press an hour ago has now been officially confirmed by RSC Anderlecht: Anthony Vanden Borre will be training with the U21 in the coming months. In this way the club wants to give Vanden Borre the chance to regain its level and perhaps also to participate in First Division again.


Anderlecht sent an official announcement to the world to prevent all speculation. So it is not non-existent that in the future we will see Vanden Borre back to work at the A-team. But first he works on his physics with the purple-white U21.

"Vanden Borre grew up in our Academy and came to knock on the door a while ago asking if we would like to help him to get fit again. As a club you do that for a child of the house, of course, "says Sports Director Michael Verschueren on the club website. "If he wants to prove that he can still come back to top level, then we want to give him the best facilities for that, but without the promise that he will join the A-team. He must be able to work calmly, at his own pace, without pressure, but with a permanent evaluation. "

"Coming home in a familiar environment will do me good. I am extremely grateful to the club that I have the opportunity to feel like a football player again. The only thing I can do now is work, work hard to enforce opportunities at the age of 32 as a professional football player. I don't expect anything, but I hope that I can give my club something back, if only by sharing my football experiences during training with the U21 boys, "said Vanden Borre.
 


Source: © Internal source
anderlecht-online forum