Verschaeren: "Hope I can be there for a long time"
TUESDAY, 10 SEPTEMBER 2019, 17:53 - lajoya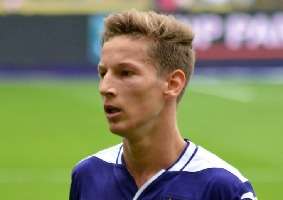 INTERVIEWS Five minutes before time, Yari Verschaeren made his debut with the Red Devils. It goes fast for the midfielder, but he enjoyed every moment. He also almost scored but Marshall kept him from a stunt: "It was already 0-4 so I had less stress," said Verschaeren.


"These are strange times for me, but this is an incredible experience. They are all great guys and great football players. I hope I can be there for a long time," said Verschaeren after the game.

His first selection and Verschaeren came in five minutes before time for Youri Tielemans: "I am really happy and I want to thank the coach. Too bad my shot didn't go in. It was already 0-4, so I wasn't really bothered by stress. "


Source: © Internal source
anderlecht-online forum