Davies: "We lack the necessary sharpness"
SUNDAY, 11 AUGUST 2019, 15:23 - lajoya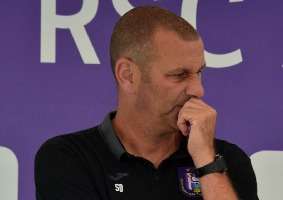 INTERVIEWS After the game against KV Mechelen, trainer Simon Davies was available for questions from the press. Davies was disappointed in the result, but sees more and more potential for the team.


"Our first half was the best of the season, but it's our fault we couldn't turn it into goals." says Davies. "If we start scoring, I think a lot is possible with this team".

Davies sees confidence grow and mentions the good debut of 17-year-old Killian Sardella. "We are making progress and will continue to use young players," says Davies. "We just lack the necessary sharpness to make a difference." That's why Davies didn't hide his disappointment because of the disappointing result. He did not want to justify the draw by talking about the good game that Purple & White played.

Regardless of the two out of nine, the coach does not want to forget the three past matches, because the team has remained true to the game style. Players are starting to get to grips with the system more and more.

Wouter Vrancken, trainer of KV Mechelen, admitted that his team was not good today, but it was thanks to the willpower of his players that they came to pick up a point against a strong opponent.


Source: © Internal source
anderlecht-online forum