Verschueren: "No offer for Didillon"
MONDAY, 15 JULY 2019, 14:20 - lajoya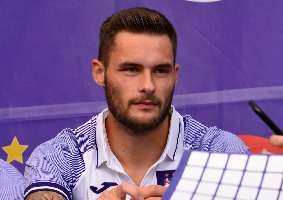 INTERVIEWS During the fan day, Thomas Didillon, Frank Boeckx and Davy Roef were presented as RSC Anderlecht's goalkeepers. The last weeks Didillon was linked to the French Rennes, but Michael Verschueren emphasizes that he has not yet received any offer for the French goalkeeper.


For the time being, RSC Anderlecht want to keep all three of them, says Verschueren: "We are satisfied about Didillon and we will therefore not put him on the transfer market. I have not yet received any offer from Rennes despite what appears in the media".

Davy Roef starts his final year with Purple & White. He wants to leave himself, but the club does not want that. But Roef wants to play, just like Frank Boeckx: "Of course they want to play all three, they currently will stay all three. It is always possible that there will be a fantastic offer for Didillon. If it depends on us, we will keep all three of them, we will see how things are going and whether there is actually one that really wants to leave. "


Source: © Internal source
anderlecht-online forum