Verschaeren: "It was a fantastic adventure"
TUESDAY, 25 JUNE 2019, 13:19 - lajoya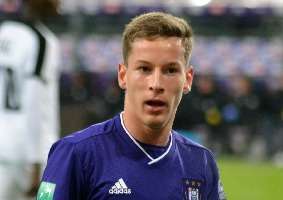 INTERVIEWS Johan Walem rewarded Yari Verschaeren for his good season with a place in the starting eleven with the Belgian U21. Verschaeren thanked with a great goal against Italy, although that was not enough for the win. For Verschaeren himself, his short presence at a European Championship is "a fantastic adventure".


"It is the most beautiful goal of my career, one to frame. And I was told that I am the youngest goal scorer of a European Championship for U21. That is a statistic to show off with," says Verschaeren.

Now we are looking forward to RSC Anderlecht and working under Vincent Kompany, but Verschaeren is still enjoying a little holiday first: "I will join the club on 17 July but I am looking forward to working with the new trainer and Kompany. He can teach us a lot. But now I'm going to enjoy some vacation. "


anderlecht-online forum