"We will get players with a very decent level"
TUESDAY, 25 JUNE 2019, 11:42 - lajoya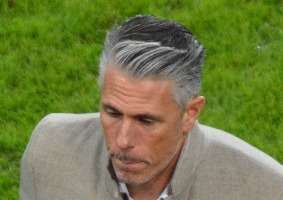 INTERVIEWS After the friendly game against RWDM, Michael Verschueren spoke with VTM. The Anderlecht manager indicated that the youngsters who played still need some time and he promised top transfers for the coming weeks.
 


"It is a friendly game. You can clearly see that we still have to get to our rhythm. But overall I am satisfied", says Verschueren. "It is nice to play here. That shows our anchoring in Brussels."

"During the second half we mainly played with youth players who are coming up. You see that they still have to take steps. With them we have to take into account another one or two years before most of those boys are ready for the first team"

Vincent Kompany returns from vacation. It really starts now. "From Monday, Vincent will leave his mark", says Verschueren. "You will see that in the way we will play football. But more people are coming. We are still working on reinforcements that are coming in the coming weeks."

Verschueren already announced that he wants to get big names. "But I'm not going to say anything about that for now. I will keep my word: I think players will come from a very solid level."


anderlecht-online forum