Davies: "It's about winning in a beautiful way"
MONDAY, 17 JUNE 2019, 16:00 - lajoya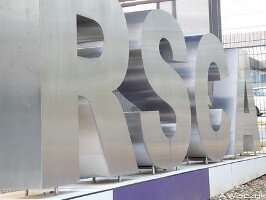 INTERVIEWS Simon Davies is the man who can pass on the ideas of Vincent Kompany to the player group. The Englishman becomes the new head coach and yesterday he addressed himself to the fans via Twitter for the first time. "It will be a fascinating season."


The Anderlecht supporters were able to send in questions for Davis in the past few days. Davis pulled ten balls out of an urn with ten questions.

What convinced you to sign at this great club?
"I had many reasons. The first was the history of the club. When you think of Belgian teams, there is only one who you think of. Whether you go to England or Brazil, wherever you are there is only one Belgian team: Anderlecht. "

What was your first impression of the training center?
"There are great training centers all over the world, but it is the people who determine the best center. Great people work at Anderlecht."

What kind of football do you want to play?
"We are going to try to play from ball possession, build-up from the back and play with aggressive pressing."

What is your ambition with Anderlecht?
"In the first instance, we have to be successful in the short term. In addition, we have to bring attractive football. So it's not just about winning, but about winning in a beautiful way. We really have to believe that we can dominate again."

How well do you know the Belgian league? Does it feel like a leap into the unknown?
"The structure is different than in England. After 30 games a new competition starts here. But that brings new challenges. We are going to adapt. We have people who know everything about it. We have a nice mix of new people and people who already know everything about this club. I am sure we will be successful. "

Are you aware that you will be joining this club after one of their worst seasons ever? Did you consider this a threat or an opportunity?
"I think you learn the most in everything you do when you go through a difficult period. So I consider it a positive moment for Anderlecht. We have people who can share the bad experience of last season. Their disappointment and their frustrations. From there we can learn the most about ourselves. "

What was it like to work with Pep Guardiola?
"The most important thing he has is enthusiasm. He is very clear in what he does and is modest in his approach. That way he can easily explain to his players what they should do. He can set up a structure that allows you to win matches "He creates an atmosphere in which everyone feels valued. There is a common goal. We can learn from it. With everything we have here and with the people there, it would be great to learn from Pep."

What is your greatest quality as a coach?
"Answering a question about yourself is difficult. A few things about myself as a coach: I make things clear to the players. A second aspect is the human: I want to understand people, whether it's players, members of staff or club staff. Whether you are Vincent Kompany or whoever within the club: we are all equal and all work together. We form one whole in the pursuit of something fantastic at Anderlecht. "

How do you know that a young person is ready for the first team? How do you prepare them?
"First of all you have to trust the communication of your staff. In addition, the question is whether they can train with the first team when the time is right. Whether during the preparation or during the season. You also have to watch their games. You have to watch them train and play. Whether these are games of the Reserves or the U18. "

What is your first message for the fans?
"For me it is the supporters who make a club big. My message for them is that it will be a fascinating season. We, and by that I mean myself, the club, the staff and the players, go all the way around the club again. That is what the supporters deserve. They are the blood and soul of this club. We do it for them."


anderlecht-online forum