Chipciu must report to Anderlecht on July 8
SUNDAY, 16 JUNE 2019, 14:28 - lajoya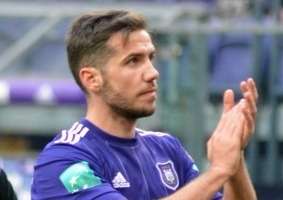 TRANSFERS Alexandru Chipciu has been informed by Anderlecht that he must report himself to the club on Monday 8th of July to start the preparation for next season. Anderlecht also gave Chipciu a program to keep his condition on track during his vacation, he says.


Chipciu calls it "good news" that he has received a message from Anderlecht that he will have to report in two weeks' time. Certain websites already speak of a new opportunity and that Vincent Kompany is counting on the Romanian for the coming season. But that seems premature conclusions. It is only logical that Anderlecht instruct Chipciu to register for the training sessions: he is under contract for another year.

Chipciu is currently enjoying a holiday in Malta. He stayed on the island after Monday's international game. "As a footballer you don't have the time to visit the places you go and to sniff the culture," says Chipciu. "I find that very interesting and am impressed by what I see here."


anderlecht-online forum