Cobbaut: "Hard work is rewarded"
TUESDAY, 14 MAY 2019, 18:39 - lajoya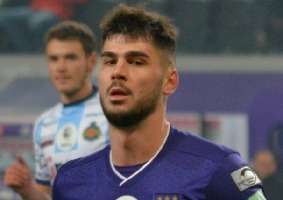 INTERVIEWS A point won", that's what Elias Cobbaut called the draw of Anderlecht against Antwerp in front of the microphone of Sporza. "The win against Standard did us good," the defender says. "Our confidence has risen again."


"It is always difficult on Antwerp. Taking into account the odds, the pressure from Antwerp and the second half, you can say that this is a point won," said the back left. "Scoring early here is ideal. Then you can close everything like them. They then played with the long ball. We had to ensure that we captured the second ball. Of course we wanted to win, because this doesn't help us in getting the fourth place. "

Cobbaut returns to the surface under Karim Belhocine. He played the entire game for the second week in a row. "I am happy that I can play again. I have had a difficult period and I have to keep working and making sure I deserve my place. Hard work is rewarded."

Cobbaut has not yet given up fourth place. "As long as it is possible, why not? We must always go for the highest possible. And that is currently the fourth place."


Source: © Internal source
anderlecht-online forum