Kums: "Not great, but not bad either"
TUESDAY, 14 MAY 2019, 18:34 - lajoya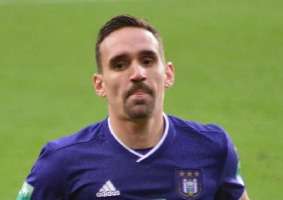 INTERVIEWS Sven Kums left the field limping shortly before the end. He couldn't continue after a sliding. Fortunately it doesn't seem serious. After the game he told Sporza that he expects to be able to play on Thursday


"I did a sliding and an Antwerp player, I don't know who, ended up on my shin. I think it was just the tap, so it's not too bad. I hope to be able to play again on Thursday," said the Anderlecht captain. .

He was clear about Anderlecht's game: it was a point of character. "We started well and took the lead. Antwerp then switched over to the long ball and they also have the form. We had a hard time with that. But we managed well in the first half."

"During the break we had said to build more and play more football in the second half. It is sour that we get a goal so quickly. After that, Antwerp played more with the long ball."

"It is always difficult to play at Antwerp. We were also too low, especially in the second half. Then we could not play football anymore. Taking a point at Antwerp is not top, but not bad either. We don't make progression in the ranking "


Source: © Internal source
anderlecht-online forum