U17: Bellante brings Anderlecht to semi-finals
SATURDAY, 11 MAY 2019, 14:38 - lajoya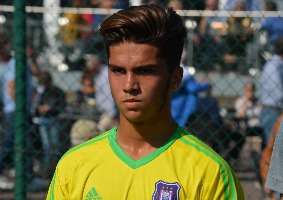 GAMES - YOUTH Anderlecht's U17 will play the semi-final at the SNAF Mondial Cup in Saint-Nazaire. The Purple & White beat Benfica this morning after taking penalties. Goalkeeper Gaetano Bellante, who came in especially for this, turned out to be the big hero.
 


After the regular playing time, it was 1-1 between Anderlecht and Benfica. A series of penalties followed and every club was allowed to shoot three times. Benfica missed three times. Anderlecht goalkeeper Bellante saved two eleven meters and the third flew over. Anderlecht scored their first two penalties and qualified for the semi-finals.

In the semi-final battle, Anderlecht will play against Zenit Saint Petersburg at 3.15 pm.
Source: © Internal source
anderlecht-online forum