3,500 euro fine for irregularities against Club Brugge
THURSDAY, 25 APRIL 2019, 15:30 - lajoya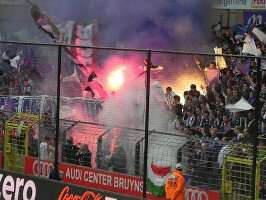 OTHER The Disputes Committee has sentenced Anderlecht to a fine of 3,500 euros for misconduct of its supporters in the home game against Club Brugge (2-3). Purple-white fans then threw cups of beer, two lighters and purple smoke bombs onto the pitch.


After referee Bram Vandriessche asked the stadium speaker not to do this anymore, it also stopped. The federal attorney demanded a fine of 3,500 euros and the Disputes Committee followed.

"The throwing of lighters, beer cups and pyrotechnic material is highly undesirable behavior and bears witness to a lack of respect for every supporter," the verdict says.
 
Source: © Internal source
anderlecht-online forum