These referees will be active in play-off 1
TUESDAY, 26 MARCH 2019, 11:17 - lajoya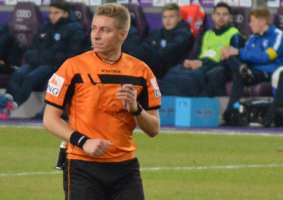 OTHER The Belgian Football Association has announced its selection of referees and linesmen for play-off 1. New this season is that the referees go into isolation one day before the game in the National Football Center in Tubize.


Not all referees are happy with this new measure, because that means they have to take extra holidays with their permanent employer.

The following referees will be active in play-off 1: Alexandre Boucaut, Nicolas Laforge, Erik Lambrechts, Jonathan Lardot, Bram Van Driessche, Nathan Verboomen and Lawrence Visser.

They will be assisted by linesmen, these are: Pieter Becquet, Laurent Conotte, Yves De Neve, Karel De Rocker, Jo De Weirdt, Frederic Godelaine, Mathias Hilaert, Kevin Monteny, Thibaud Nijssen, Philippe Vandecauter, Rien Vanyzere and Ruben Wyns.


Source: © Internal source
anderlecht-online forum