Didillon: "Vranjes is not a bad boy"
TUESDAY, 26 MARCH 2019, 11:01 - lajoya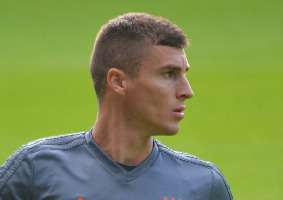 INTERVIEWS Thomas Didillon receives a few questions in Het Nieuwsblad. One is about Ognjen Vranjes and the goalkeeper defends his teammate: "Ogni is not a bad boy."


"Ognjen is also not a stupid footballer, why would he be considered for that? For his tattoo? I also have it and I put it for myself, not for what others think of it. I am so sorry that he is being attacked for that. It is his body and he does what he wants with it ", Didillon is honest.

"Yes, ok, he was clumsy, but I experienced that myself," the Frenchman continues, "As with that barakis statement. Anyone can do something like that. If Vranjes was a titular and would always have played top, then there would not be made a drama like that. And that is sad. "


Source: HNB (Koen Van Uytvange)

anderlecht-online forum