Walem and Schrijvers want Verschaeren at the European Championship
WEDNESDAY, 20 MARCH 2019, 20:18 - lajoya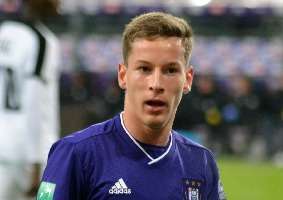 YOUTH Yari Verschaeren made his debut at the Belgian U19, but he won't stay there long. The U21 wants him. Although national coach Johan Walem wants to go to the European Championship with his regular team this summer, he opens the door for Verschaeren. Captain Siebe Schrijvers does the same.
 


Just like Roberto Martinez at the first team, Walem forged a solid and close group at the U21. That way Dion Cools stays there, even though he barely plays at Club Brugge, and there is no room for Thibault Vlietinck, although he does make a good impression at the outgoing champion. But for Verschaeren, Walem wants to make an exception.

"If he continues to play in the play-offs as he is currently doing, he will of course be called up," Walem says. "You can't ignore someone with a lot of talent. The ease with which he plays, his freshness, technique, vista and physical are impressive. And his first ball control, essential for me, is fabulous."

Captain Siebe Schrijvers will welcome Verschaeren with open arms. "What he performs at Anderlecht is great. Certainly for someone aged 17 and in such difficult circumstances," said the player of Club Bruges. "I would certainly want him to come with us to the European Championship in Italy."


Source: © Internal source
anderlecht-online forum