Verschaeren also trains with U21
WEDNESDAY, 20 MARCH 2019, 12:56 - lajoya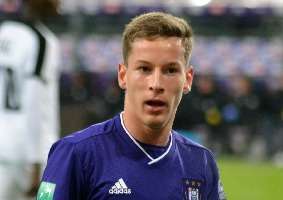 OTHER It's not all football all day long for Yari Verschaeren. The Anderlecht revelation is still studying and he takes that seriously. For example, Monday and Tuesday the studies are central. That means that the midfielder doesn't train with the first team during those days, but with the U21.


On Mondays and Tuesdays, Verschaeren is at school just like any other young man from 8.30 am to 4 pm. Afterwards he goes to the club to train. On Monday, that is a run-out training, individually or with the U21. On Tuesday he will train with the U21 as well. These boys train after school, while the first team trains during the day.

Verschaeren will join the first team on Wednesday. Then he first goes to school for an hour, to be at the club when the morning training starts at 10.30. On Thursday, the first team has a day off and then the studies are again central.

The toughest day is Friday. Then there is first an hour of school, then morning training at Anderlecht, then another hour of school and finally the afternoon training. On Friday evening, when it fits, Verschaeren will also go to his home in Kruibeke. He will spend the rest of the week at a boarding school in Anderlecht.


Source: HLN (Pieter-Jan Calcoen, Jonas Van de Veire)

anderlecht-online forum