Kums does a copy-paste from November 11
TUESDAY, 12 MARCH 2019, 09:59 - lajoya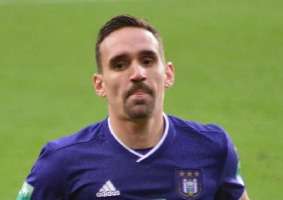 OTHER Sven Kums scored his fourth and fifth goal of the season on Sunday. The similarities with his first and second are very similar. We found no fewer than five.
 


Kums scored his first two goals of the season on November 11. Opponent at that time was AA Ghent. Just like Kortrijk, a former club of Kums.

Kums scored the only two goals of the game. Also on November 11 against Ghent, the match ended 2-0 and so Kums scored all goals.

Kums scored on Sunday once before and once after the break. Ditto on 11 November against Ghent.

Anderlecht have barely scored from a direct free kick in recent years. Kums did it on Sunday and ... also on 11 November against Ghent.

His first goal on Sunday was a long shot from just outside the box. He also scored his other goal on 11 November against Ghent with a shot from outside the penalty area.

To be complete: goal number 3 of the season, Kums scored against Standard in early February.


Source: © Internal source
anderlecht-online forum