Boffin and Iakovenko give kick off
FRIDAY, 8 MARCH 2019, 16:35 - lajoya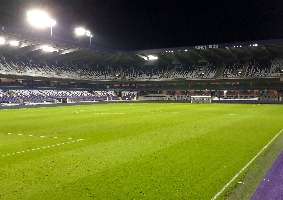 OTHER Anderlecht also picked up two former players for the match against KV Kortrijk on Sunday to kick off the match. This time Danny Boffin and Sacha Iakovenko are present.


In 1991 Anderlecht got Boffin from FC Luik to the Astridpark. The left center stayed there for six years. In that period he played 250 games and scored 37 times. With a hat-trick on the field of Werder Bremen, Boffin seemed to be in the history books in 1993, but an unlikely turnaround turned this game into a black page in Anderlecht history. In 1997, the 53-fold Red Devil traveled to France for a foreign adventure at Metz.

Iakovenko arrived in January 2008 as a 20-year-old at Anderlecht, who rented him from Genk. After the season, Anderlecht permanently took over the Ukrainian, but a breakthrough failed. Loans to Westerlo and OH Leuven followed. It was only in the season of 2012-2013 that he would break through at Anderlecht. Under John van den Brom he scored, especially as a substitute, seven goals in the league and two in Europe. After that season, he moved to Fiorentina free of transfer. That was not a success and in 2016 he stopped at the age of 29 with football.

 
Source: © Internal source
anderlecht-online forum